Discover more from pourteaux
Society, Culture, Technology
Over 1,000 subscribers
Luis Wenus published a simple but revealing image that demonstrates the convergence of geopolitics between the Far Left and Far Right. In both cases, those on the extremes tend to oppose Israel and Ukraine, while supporting Russia and Palestine. In the case of Palestine, noble support for the self-determination of a people long victimized and marginalized by both Hamas and hard-right Israeli governments is also a mainstream position on the left. However, the revealing aspect of Luis Wenus' image is that the far-left and far-right arrive at the same conclusions, despite disparate worldviews.
Indeed, this has long been called "Horseshoe Theory": an idea by French philosopher Jean-Pierre Faye that as those at the far right and left become more extreme, they begin to resemble each other more closely. In particular, both the far left and far right eventually become advocates for authoritarianism, as it becomes clear that there exists no peaceful or democratic means to achieve their goals.
I've made a related argument in the past in my essay on institutional alignment (video presentation here). There, I argue that while the traditional left and right may disagree on economic or social issues, they have emerged as allies in the current political moment where a more upstream question dominates: are the prevailing Western institutions credible or not? This helps explain the sudden emergence of once unthinkable allies between stalwart leftists like Noam Chomsky or Cornell West, with zealous rightists like Tucker Carlson and Donald Trump. In times gone by, these two groups would be bitter domestic rivals, but in the current age of an institutional crisis of confidence, they are loyal allies aligned against the institutional hegemons of the West. Likewise, Joe Biden and Elizabeth Cheney are traditional rivals on domestic economic and social issues. But these issues have receded in importance as their upstream concern to defend Western institutions has taken precedence.
Consider these institutional questions: Is NATO a force for deterence and stability, or are they an aggressor that drew Russia into war against Ukraine? Do the New York Times or BBC generally do a good job speaking truth to power, or are they essentially the State's propaganda machine akin to Russia's RT or China's Global Times? Do Western doctors and scientists generally have the best interests of the population in mind, or are they power-obsessed manipulators hoping to subjugate a free people into docile state-servants?
The answers to these questions don't respect a left vs right axis. Instead, both left and right institutionalists support NATO, professional journalists, and scientists while anti-institutionalists on the left and right join forces to oppose them.
Consider again the geopolitical version of the horseshoe theory. Luis Wenus' graphic examined this in the context of current crises (Israel/Palestine, and Russia/Ukraine). I decided to add a critical third axis: China/Taiwan. With this more complete picture in mind, let's consider how someone on the Far Right or Far Left arrives at their shared conclusion: to support Russia, China, and Palestine against Ukraine, Taiwan, and Israel.
Let's start with the left. Mainstream leftist thought is anti-imperialist. They correctly identify the horrors of Western imperialism, of which there are numerous examples: mistreatment of Native Americans, the slave trade, subjugation and colonization by the British and other European powers, etc. But in the mind of the Far Left, the historic imperialists (the Americans, the Europeans) are to be opposed to such an extreme, that the current imperialism of China (eg, in Tibet, Xinjiang, SCS) or Russia (eg, in Georgia, Ukraine, Chechnya) is suddenly justified if it weakens the West. For the Far Left, the West are the permanent imperialists of history, and thus when the anti-Western nations start rolling tanks into neighboring countries' territory (objectively imperialist), it is excusable or even laudable.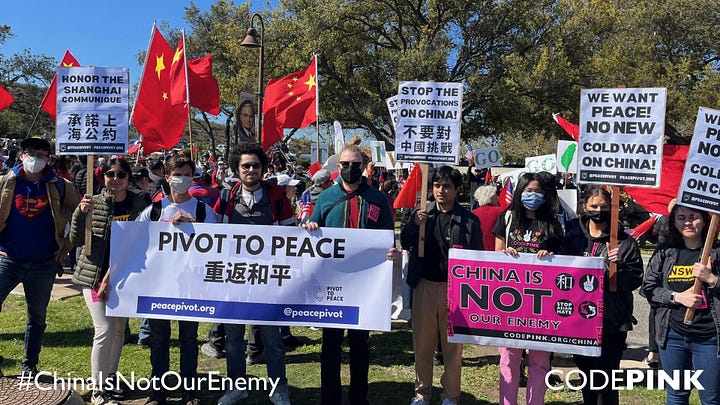 Now, let's look at the right. Mainstream rightist thought in the United States has always had a strong isolationist or anti-interventionist streak. Indeed, it's true that the United States and allies have made plenty of errors historically when it came to intervening in places like Vietnam, Iraq, or Afghanistan resulting in horrors for the local populations while simultaneous harming the position of these Western powers themselves. Just like with the Far Left's anti-imperialism, the Far Right takes this reasonable principle of non-interventionism to such an extreme where they become advocates for the growing power and dominance of our geopolitical adversaries up to the moment that they've amassed enough power to bring their military to our doorstep. Those on the far right insist that America's true enemies are domestic, that our focus should be on our own culture wars, and even that Russia and China are admirable for their cultural chauvinism and ethnic homogeneity.
The left's anti-imperialism and the right's anti-interventionism are serious ideas rooted in important lessons from recent history. Yet, when taken to extremes, they undermine the very principles they purport to advocate. The Far Left becomes so anti-imperialist so as to support the imperialism of China and Russia, while the Far Right becomes so anti-interventionist so as to accommodate the growing military power of Russia and China for a future confrontation with the West. Furthermore, both the Far Left and Far Right misunderstand Russian and Chinese culture and daydream about their moral or cultural superiority to the West. On the Far Left, they falsely glorify Russia and China as true attempts at Communist utopias. On the Far Right, they falsely glorify Russia and China as trad chauvinist mono-ethnic utopias. And in each case, support for Palestine at the extremes really has little to do with the worthy goal of Palestinian self-determination, but instead with the sadly familiar anti-Semitism on the Far Left and Right. The Far Right justifies anti-Semitism based on "ethnic impurity" and conspiracy theories. The Far Left swaps these out for guilt-by-association with the State of Israel, and academic theories. For these two groups that purport to be rooted in opposing worldviews, they have done remarkably well at arriving at exactly the same abominable conclusions.
pourteaux is a reader-supported publication. To receive new posts and support my work, consider becoming a free or paid subscriber.